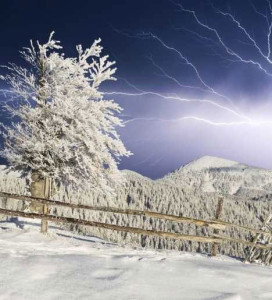 Did you know that most people associate lightning damage with warm weather? What they fail to realize is that such activity is not restricted to certain times of the year. Just ask the independent insurance claims adjusters that work at our public adjusting firm. They all know that thunder and lightning storms can, and do, occur in the winter months. The scientific community even has a name for such weather occurrences. They refer to them as thundersnow events.
Thundersnow events have a history of taking place in various states, including New York. When they do take place, the lightning bolts' ampage levels are said to be significantly higher than those that occur during warm weather events. Depending on the situation, the currents generated from a single bolt may range from 2,000 amps to 200 million volts.
For those property owners whose assets are hit with wintry bolts from the blue, extensive damage is the likely result. As an example of how much damage may result, take a look at the Insurance Information Institute's latest lightning claims report. It indicated that close to $1 billion dollars in lightning damage was reported in 2012. However, the report did not divide the $1 billion dollars in damages up into seasons. Therefore, there is no definitive way of knowing just how much of it was caused by winter lightning events.
As a public adjusting firm, what we do know is that regardless of the season, it pays to be mindful of lightning's damage potential. With that said, we'd like to encourage property owners to review their insurance policies now. That way, they'll know if they have winter lightning related coverage. We'd also like to remind everyone that we can assist residents in NY and FL with filing lightning damage claims year round. To learn more about the claims' filing process in those areas, please contact us. Our public adjusting firm's phone number is (877) 869-8989.
Tweet