Water damage in your home is frustrating, potentially hazardous—and it can be costly. If you have experienced water damage in your home from flooding, plumbing leaks or any other incidents or home conditions, there are a few things you need to do in order to make sure that the damage is handled properly. The following are 4 things you need to do when you have water damage in your home.
1. Stop the Water Flow (if Possible) and Turn Off Your Electricity (In Case of Floods)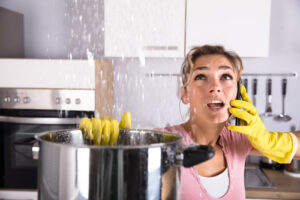 If the water damage is caused by a leaking faucet, burst pipe or something other than a natural flood, then you need to stop the flow of water as soon as possible. Turn off the water supply to your home to prevent additional damage from occurring.
Water and electricity poses a safety risk, so you'll want to turn off the electricity to your home if it has been flooded. Do not turn electrical appliances on and off if they are submerged in water, as this can pose a safety and health hazard to you; instead, turn off the entire electricity supply to prevent electrical shocks and fires. You don't need to turn off the electricity in case of water puddles or a leaking pipe.
2. Call A Public Adjuster
One of the first things you should do is call a public adjuster. Our claims adjustment services help you understand your residential home insurance claims, whether it's due to water damage, fire damage or something else. If your home has been damaged by water, we make sure that your claim is properly handled and that you get exactly what your insurance is supposed to offer.
3. Remove Your Valuables
If your home is flooded, or the water damage from leaks is extensive, it's time to remove your valuables from the area. Clothing, jewelry, books, photo albums, precious mementos and family heirlooms—it's best to get these completely removed from the home once it has been damaged by water, as you don't want water, moisture or mold to affect these objects. If they have been submerged in water, take them to an expert ASAP to mitigate any of the early water damage. In the future, consider purchasing an archive-safe, water and fireproof compartment for valuables that you want to make sure do not get damaged in case of floods, fire or water leaks.
4. Start Taking Photos
You will need ample documentation, including photographs, if you plan to process a water damage claim. Take as many photos as possible of the water damage, including any flooded areas, appliances that have been affected, floors, walls, etc. The more documentation you have, the easier it will be for your claims adjuster to handle your damage claim. If you aren't sure what elements of the damage you need to photograph, you may want to do this step after your consult with a claims adjuster, as they will be able to guide you on what you should photograph for the best claim results. In the case of Equitable Public Adjusters, we handle the entire process for you — from filing the necessary paperwork, to documentation, including taking all necessary photos.
These are just some of the steps you should take when you have experienced water damage in your home. For a complimentary consultation, or for more information, contact the experts at Equitable Public Adjusters today 877-869-8989.
Tweet