One in every 14.4 seconds. Shockingly, that is the number of burglaries that the Electronic Security Association's figures indicate occur every single day in America. Add that to the FBI's historical figures, which estimate that more than $2,000 in property is lost during each event and it's enough to give even mild mannered Americans heart palpitations. We here at the public adjusting firm of Equitable Public Adjusters & Appraisers understand those emotions because we've been handling theft and vandalism claims for more than 5 decades. That's why we've compiled a few burglary prevention and response tips that Americans may find helpful. Here they are:
Public Adjusting Firm's Tip #1 – Be Social Media Smart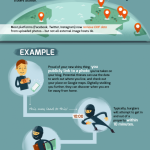 According to a recent infographic published on Technorati, a large percentage of burglars are believed to be using people's social media activity to develop their list of targets. With that said, think twice before you tweet, post, like, check-in or share. Otherwise, you could end up inadvertently sharing all of your hard-earned property with your area's criminals too.
Public Adjusting Firm's Tip #2 – Adopt Security Measures
It is also a good idea to consider adopting other security measures as well. For example, don't leave your window blinds open or your windows unlocked. Contemplate installing security cameras, motion detector lighting and theft deterrent landscaping measures too. Such steps should at the very least make your home or business a less appealing target to thieves.
Public Adjusting Firm's Tip #3 – Purchase Adequate Theft Insurance Coverage
Purchasing adequate theft insurance coverage and keeping your list of valuables updated are smart steps to take too. Speaking of lists, be sure to make several copies and put them into secure locations. That way, you're likely to have an easier time obtaining the information when you need it. Places to consider storing the lists are built-in, fireproof, home safes and bank safety deposit boxes.
Public Adjusting Firm's Tip #4 – Get to Know Your Independent Claims Adjuster
Lastly, we'd recommend that you contact us and get to know our independent claims adjusters. Together, we can assist you in assigning value to your property, filing a theft related insurance claim and settling matters with your insurance company. Unlike others that may try to contact you after a burglary, our public adjusting firm's main focus is keeping your best interests at the forefront. To discuss the matter further, call (877) 869-8989 or send us an e-mail. We have offices in New York, Florida and New Jersey.
Tweet