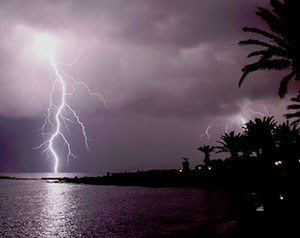 Did you know that according to NOAA's latest figures, 468 people have been killed in lightning strikes that have occurred throughout the State of Florida since 1959? That's the most of any U.S. state. Nationwide, the average number of annual fatalities is said to be 100. It's also interesting to note that collectively, the entire nation's lightning strikes result in approximately $5 billion dollars in damage each year. Here's a closer look:
Because of its inherent nature, lightning damage is said to be caused by several things. The estimated 25,000 to 45,000 amps of electrical current and 50,000 degree Fahrenheit heat generated by each strike are two of them. Together, they can literally destroy a structure and its contents in no time at all. The good news is that Floridians can take steps to protect their homes from lightning damage.
One of them is to secure a homeowner's policy that includes adequate lightning coverage. Based on historical data, we'd suggest looking for policies that offer at least $6,000 in coverage. That's because according to the Insurance Information Institute's latest figures, the average lightning related insurance claim tends to fall in the $5,000 to $7,000 range.
We should also mention that some insurance companies offer modest to substantial discounts to those that adopt certain security measures. Those measures include, but are not restricted to installing lightning protection systems and using surge protectors. Understandably, the discount's availability and cost savings will vary based on a person's unique circumstances.
For those Floridians whose properties sustain lightning damage anyway, there is another action that they should take. That action is contacting us. Our Florida insurance adjusters are experienced in handling lightning damage claims. Therefore, we can assist Floridians in every step of the recovery process. For more information on what our independent insurance adjusters can do, call (877) 869-8989.
Tweet