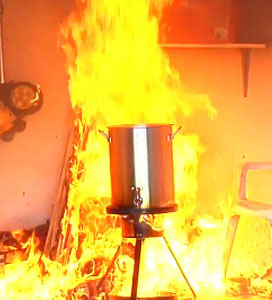 Did you know that approximately 2,000 residential fires occur on Thanksgiving Day every year? That's nearly double the amount of fires that take place on other days of the month. According to the U.S. Fire Administration's latest data, most of those fires start between noon and 4 p.m.  In the process, they cause an estimated $21 million in damages. The good news is our public adjusters have a few suggestions on how you can prevent such holiday mishaps from occurring:
#1 Fry Safely
Cooking disasters, including those connected to turkey fryers, are one of the chief causes of Thanksgiving Day fires. So our public adjusters would like to urge all fried turkey fans to use the utmost of caution this year. The best course of action is to place the fryer outside and away from flammable objects. It is also important to thaw the turkey properly and keep a Class K fire extinguisher nearby.
#2 Use Sterno Safety Equipment
While we are on the subject of foods and flames, don't forget to use caution with Sterno's cooking fuel too. They contain jellied, denatured alcohol, which is highly flammable. As such, they should never be placed on a table without the proper safety equipment in place. Safety equipment that should be used with Sterno includes wire fuel holders, snuffer paddles and non-combustible trays. It is also important to note that in order to account for any splatter issues, the non-combustible trays should extend well beyond the Sterno containers in each direction.
#3 Handle Candles Cautiously
Although they are the chief cause of Thanksgiving Day fires, cooking mishaps are not the only things to look out for. Our public adjusters would also like to remind everyone to handle holiday candles cautiously. Do not place the lit candles close to centerpieces, table linens or paper decorations. Otherwise, they could easily cause those items to go up in flames.
#4 Remember Our Public Adjusters
Finally, remember that if a Thanksgiving Day fire does occur, our public adjusters are nearby and willing to help. Just contact us by calling (877) 869-8989. Afterward, one of our public adjusters in Florida or New York will get to work on your claim.
Tweet