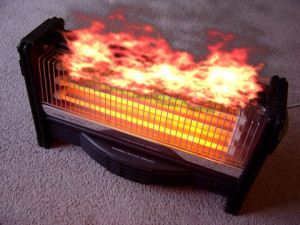 Our Florida public adjusters know that as November draws to a close, residents are likely to bust out their portable space heaters for warmth. These seemingly innocuous actions unfortunately make the weeks that follow prime time for home heating fires to occur. For verification, just take a look at the National Fire Prevention Agency's most recently reported figures. They indicate that there are typically more 50,000 heating related fires that occur each year. With that said, we thought it pertinent to list our Florida public adjusters' tips for preventing and dealing with space heater fires:
FL Public Adjusters' Tip #1: Conduct an Equipment Check
Before the first frost on the citrus occurs, be sure to conduct a thorough equipment check. We'd suggest starting the process by making sure that your portable or fixed space heater is clean and in excellent condition. You'll also want to test your building's smoke and carbon monoxide monitors as well as its fire extinguishers. After all, they should all be in working order too.
Once that is done, stop by the Consumer Product Safety Commission or Safer Products' websites. While there, conduct a brief search to ensure that the heater hasn't been recalled since it was last placed into storage. If it hasn't, it should be safe for continued, proper use. However, if it was recalled, we'd recommend discarding it and buying a new, safety certified heater.
FL Public Adjusters' Tip #2: Prepare the Location
Afterward, survey and prepare the area where you plan on setting up your space heater. Ideally, it should be positioned in a level location that is free of flammable items and has good ventilation. You'll also want to make sure that it isn't in a spot where it could inadvertently get knocked over.
FL Public Adjusters' Tip #3: Follow All Instructions
Once you've found the ideal spot and set the heater up, make it a point to follow all of the instructions that came with the unit. Otherwise, you could cause a fire as well as void the heater manufacturer's warranty.
FL Public Adjusters' Tip #4: Keep in Contact
Lastly, we'd suggest that you keep in periodic contact with us. That way, if a home heater fire does occur, we can help you settle your insurance claim quickly. To reach our Florida public adjusters year round, please call (877) 869-8989 or (516) 843-4040.
Tweet