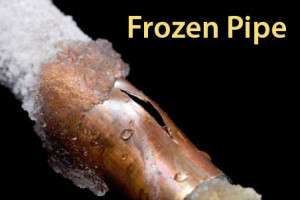 With the Farmer's Almanac calling for another frigid winter, our public adjusters in NY wanted to take time out to discuss cold weather related water damage. Cold weather related water damage may be caused by several different situations. Either one of them may cost New York property owners a sleigh full of cash.
Situations that may result in cold weather related water damage include broken pipes, ice damming issues and natural floods caused by ice jammed rivers. Understandably, the damage may or may not be covered by one's insurance policy.
Speaking of which, according to the Insurance Institute for Business & Home Safety's figures, broken pipes in the winter can cost the average New Yorker $5,000 or more in property damage. Obviously, that's not taking into account the other water damage scenarios we mentioned previously. They each come with their own astronomical price tags.
On a positive note, New Yorkers can take action to prevent some winter related water damage from occurring. They include adding insulation where needed, keeping the thermostat above 55 degrees Fahrenheit and draining water from unused pipes.
For those that may not have the funds necessary to add insulation, our public adjusters in NY would like to remind residents that there are resources available that may help. One of them is the Empire State's Weatherization Assistance Program. It isn't the only program available in New York either. Other winterization related services that New Yorkers may want to avail themselves of are the EmPower Program, HEAP and the Energy Star's Assisted Home Performance Program.
If cold weather related water damage occurs despite one's best efforts, it is also advisable to contact a reputable public adjuster in NY straightaway. Our public adjusting firm, for example, can help NY residents file cold weather related damage claims. We can also provide assistance in other ways. To learn more, please contact us at (877) 869-8989. Our public adjusters in NY would be happy to go over all of the details with you.
Tweet