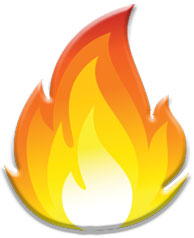 October is the type of month that brings several important holidays with it. One of them is National Fire Prevention Week. It tends to run from October 6th through October 12th. With that in mind, our public adjusting firm's staff wanted to discuss kitchen fire damage and how to prevent it.
Scope of Kitchen Fire Damage
First, let's take a moment to discuss the scope of the problem. According to the National Fire Protection Association's research, four in 10 home fires can be traced back to the kitchen. And that figure obviously doesn't take into account commercial kitchen fires. Based on FEMA reports, there are typically 5,900 reported commercial kitchen incidents that take place each year.
The resulting damage, whether the fire occurs at home or in a commercial establishment, can be devastating. Take for example some of the kitchen fires that have occurred recently across the country. One fire that took place in Massachusetts cost a Chinese restaurant owner an estimated $400,000. Thankfully, no fatalities occurred.
Tips for Preventing Kitchen Fire Damage
Understandably, kitchen fires may be attributed to multiple causes. However, some of the primary ones are greasy equipment or exhaust systems, unattended equipment, burnt food, chef's error and faulty appliances. That said, two of the best preventive measures one can take are to keep everything clean and maintained. This includes your property's smoke detectors and sprinkler system, if applicable.
Supervising the cooking process, having adequate fire insurance and keeping a fire extinguisher nearby are three other preventive actions that may help. Speaking of fire extinguishers, you will want to make sure that the one you purchase is the right class. Otherwise, you could inadvertently make the situation much worse. One of the ones to look for is a Class K. It is specifically designed to extinguish certain cooking related fires. Your local fire department's volunteers should be able to explain the different classes to you and discuss which ones would be best for your home.
Tips for Handling the Aftermath
If a kitchen fire does ultimately occur, consider calling our public adjusting firm prior to filing your insurance claim. We can help you assess the damage caused by the kitchen fire and handle settlement negotiations with your homeowner's insurance provider. To learn more about our public adjusting firm's services, contact us at (877) 869-8989. We currently have public adjusters operating in the states of New Jersey, New York and Florida.
Tweet