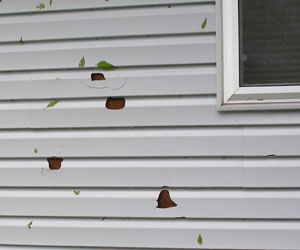 According to NOAA's data, each year Americans must contend with approximately $1 billion in hail damage. The damage involved is often caused by hail that is generated during hurricanes and severe thunderstorms. In many instances, the hail itself is smaller than 3 inches in diameter. However, over the years, there have been occurrences of hail much larger than that. Here's a bit more information about hail and what to do if your property sustains damage:
Hail, as mentioned previously, can range in size, density and traveling speed. It is important to recognize that fact because all three play a role in how much damage the hail may cause to a structure. For example, previous research has shown that a 3 inch piece of hail traveling at 88 miles per hour will hit a surface with 120 pounds of pressure. A 2.75 inch piece of hail, on the other hand, may hit the same surface with 81 pounds of force. Now just imagine what would happen if either one landed on top of your home's skylight. Once you do, you'll have a pretty good idea of how our nation's annual, reported hail damage may reach $1 billion or more.
This brings us to the best course of action to take in the event of hail damage. We'd recommend contacting an independent claims adjuster for several reasons. First, they can assist in surveying the damage and coming up with an unbiased repair estimate. This is exceptionally important considering the number of unscrupulous repair contractors that seem to surface after a hail storm. In addition, an independent claims adjuster can handle all of the lengthy and often complicated negotiations that follow with a person's insurance company.
Those are just a few of reasons to hire an independent claims adjuster. To discuss the matter in detail, please contact us. Our Equitable Public Adjusters & Appraisers may be reached by calling (877) 869-8989.
Tweet