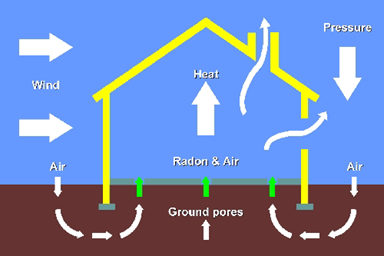 With National Radon Month kicking off on January 1st, our public adjusters in South Florida wanted to take a second to talk about radon. Radon is an insidious, organic, cancer causing substance that has plagued South Florida homeowners for decades. Perhaps what makes it so menacing is that without testing or a cancer diagnosis, you may never notice its presence.
It originates from the earth and can enter your home through well water, the air, soil and select building materials. In most instances, the cost of radon testing and radon removal is not covered by standard homeowner's insurance policies. The good news is that it is relatively easy and affordable to accomplish both tasks.
If you already own your own home or are renting a place, the ideal way to start the testing process is to contact the Florida Department of Health. They have detailed information on kits that DIY minded South Floridians may purchase from the government as well as a list of certified radon testing companies for those that prefer to leave it to the pros.
If you haven't entered into a sale or rental agreement yet, Florida's public health statute 404.056 is worth reading. It discusses the rights that South Floridians have when it comes to radon testing, rental agreements and property sales. Generally speaking, South Florida home buyers and renters have a right to know whether or not the gas is present in the building, and in what amount, before entering into real estate agreements.
Our public adjusters in South Florida also suggest taking a look at the Federal Housing Administration's Department of Housing and Urban Development's 203(k) program. It is a rehabilitation financing program that may be used to take care of radon related issues in select homes. Information and program applications are available through the FHA Resource Center.
To talk with our public adjuster in South Florida about this and other homeowner's insurance issues that may impact your family's quality of life, please contact us toll-free. Our phone number is (877) 869-8989.
Tweet